[et_pb_section bb_built="1″ admin_label="section" _builder_version="3.0.51″ background_image="http://stillpointsolutionsny.com/wp-content/uploads/2018/02/bgrnd_image.jpg"][et_pb_row _builder_version="3.0.101″ background_image="http://stillpointsolutionsny.com/wp-content/uploads/2018/02/hands_lrg.jpg"][et_pb_column type="4_4″][et_pb_image _builder_version="3.0.102″ show_in_lightbox="off" url_new_window="off" align="left" always_center_on_mobile="on" use_overlay="off" force_fullwidth="off" animation_duration="500ms" animation_intensity_slide="10%" animation_direction="left" show_bottom_space="on" src="http://stillpointsolutionsny.com/wp-content/uploads/2015/11/logo.png" /][et_pb_divider _builder_version="3.0.101″ /][/et_pb_column][/et_pb_row][et_pb_row admin_label="row" _builder_version="3.0.101″ background_position_1="top_left" background_repeat_1="no-repeat" background_color="#1f6dbf" custom_padding="25px|20px|30px|20px"][et_pb_column type="2_3″][et_pb_text admin_label="Intro Text" _builder_version="3.0.102″ background_layout="dark" text_font_size="16px" text_text_color="#ffffff"]
Craniosacral Therapy (CST) by Stillpoint Solutions, Where Healing Begins
Craniosacral Therapy (CST) involves releasing restrictions in the fascia and connective tissues of the body which may be contributing to symptoms such as pain. It also releases stress held in the body, such as emotional held tension and anxiety. Craniosacral therapy sets up the body's self corrective healing mechanism. It improves not only physical symptoms such as pain, but also affects the nervous system improving focus, balance and harmony within.
[/et_pb_text][et_pb_text admin_label="About Text" _builder_version="3.0.102″ background_layout="dark" text_font_size="16px" text_text_color="#ffffff"]
About Lisa Grondahl, OTR, CST, LMT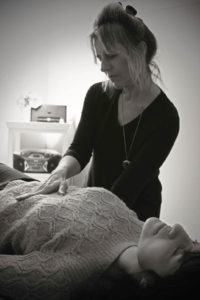 I am a holistic Occupational Therapist who specializes in craniosacral therapy. I utilize a holistic approach that will re-balance your system physically,emotionally and spiritually, as indicated by your needs. During each session, I assess the tensions in your body to bring you optimal results for your situation. Each session is a clean slate.
Clients come to me after trying many other methods that haven't given them the lasting relief they were hoping for. I understand completely, and have studied many methods to help me best help you and your individual needs. People are less stressed, anxious and/or distressed, and are more focused, energized, and present.
I feel passionate about craniosacral therapy, the foundation of my treatments, but also include other light touch methods of body work, energy work, and dialogue as indicated and dictated by your body's wisdom and needs. I am also licensed in massage, focusing on acupressure, reflexology and lymphatic drainage when indicated.
[/et_pb_text][/et_pb_column][et_pb_column type="1_3″][et_pb_image _builder_version="3.0.101″ src="http://stillpointsolutionsny.com/wp-content/uploads/2015/11/stillpoint_white.png" show_in_lightbox="off" url_new_window="off" use_overlay="off" align="center" always_center_on_mobile="on" force_fullwidth="off" show_bottom_space="on" /][et_pb_text admin_label="Contact Text" _builder_version="3.0.102″ background_layout="dark" text_font_size="16px" text_text_color="#ffffff"]
Contact Stillpoint Solutions
Lisa Grondahl, OTR, CST, LMT
631-403-0554
lisa@stillpointsolutionsli.com
Appointments are held at:
Long Island Healing Arts & Learning Center
868 W Jericho Turnpike
Huntington, NY 11743
[/et_pb_text][et_pb_divider _builder_version="3.0.101″ show_divider="on" divider_weight="3″ /][et_pb_text admin_label="Testimonial" _builder_version="3.0.102″ background_layout="dark" text_font_size="16px" text_text_color="#86bdf5″]
Client Testimonial
"Lisa's hands on gentle therapy for my chronic neck injuries and affected problematic muscles is both effective and soothing. The kind and gentle treatment allows my body to respond back in ease and kindness with beneficial long term results."
— Cathi Matuza, Huntington NY

[/et_pb_text][/et_pb_column][/et_pb_row][et_pb_row][et_pb_column type="1_3″][et_pb_image _builder_version="3.0.101″ show_in_lightbox="off" url_new_window="off" use_overlay="off" align="center" always_center_on_mobile="on" force_fullwidth="off" show_bottom_space="on" src="http://stillpointsolutionsny.com/wp-content/uploads/2018/02/iStock_000024891099_Small.jpg" /][/et_pb_column][et_pb_column type="1_3″][et_pb_image admin_label="Skull Image" _builder_version="3.0.101″ show_in_lightbox="off" url_new_window="off" use_overlay="off" align="center" always_center_on_mobile="on" force_fullwidth="off" show_bottom_space="on" src="http://stillpointsolutionsny.com/wp-content/uploads/2018/02/SPS_Skull-color.jpg" /][/et_pb_column][et_pb_column type="1_3″][et_pb_image _builder_version="3.0.101″ show_in_lightbox="off" url_new_window="off" use_overlay="off" align="center" always_center_on_mobile="on" force_fullwidth="off" show_bottom_space="on" src="http://stillpointsolutionsny.com/wp-content/uploads/2018/02/cran5.jpg" /][/et_pb_column][/et_pb_row][/et_pb_section]